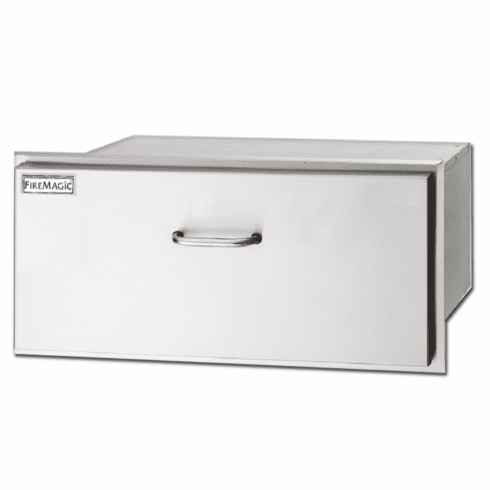 Fire Magic large 1 drawer masonry 13 X 31 Select 33830-S
Brand:
Fire Magic
MFG #:
33830-s
Product Description
If you want to be sure that you have ample storage space in your BBQ Island than this Fire Magic 1 drawer unit is the perfect one for you. This extra-large masonry drawer by fire magic measures an outstanding 13" x31" which will provide you with ample space to store all of the many items you will need to have on hand when creating a mouthwatering masterpiece. The 33830-S is the perfect choice for serious grillers who want only the best storage solutions that money can buy. Sure, you can buy less expensive masonry drawers for your BBQ Island; but will they stand up to the elements and maintain their beauty year after year?
The 33830-S is constructed of
commercial grade
304 stainless steel and offers a
sleek and stylish
design that will perfectly compliment your Fire Magic grill. Sure, you can purchase a smaller single drawer; however, it will not offer the
outstanding storage space
that this masonry drawer provides. So, if you want a single drawer that sits on an easy glide system for easy one hand operation then look no further than this awesome
quality
Fire magic
1 drawer unit
.
You can quickly and easily install this masonry drawer into your BBQ Island with ease. All you need to do is cut out an opening which measures
31" W x 20 1/2" D x 13" H
. You are sure to love the easy outside mounting system and the double thick walls on the 33830-S which provide
excellent insulation
. Combine this with the beautiful
squared edges
, strong
magnetic latch
system and
tubular style handle
and you can see why the 33830-S Fire magic 1 drawer unit is one of the bestselling masonry drawers on the market.
Specifications of the Fire magic 1 Drawer - 33830-S
Cut out Dimensions: 13" tall X 31" X Wide X 20- 1/2" Depth
Large 30" of Storage Space
Top Quality Craftsmanship
Made in the USA
Constructed of Top of the Line Stainless Steel
Beautifully Squared Edges
Tubular Style Handle
Sleek & Stylish Design
Outside Mounting System
Double Thick Walls